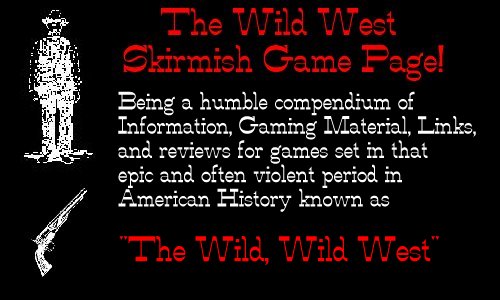 FOUND! The SCARY MONSTERS OF THE GOLDEN WEST material (in PDF)

NEW! Mission Builder Cards. See SITE NEWS, below

This is a Wild West Skirmish web document, dedicated to the play of man-to-man combat games using miniatures or board games, set in the time period alternatively known as either "the Old West", "the Wild West", or "the American Frontier period." This time period usually encompasses the Plains Indian Wars and sometimes the Mexican-American War, but often those conflicts are not presented as skirmish games. Western skirmish games are by nature very tactical and fast moving in time scale, and almost always utilize 1 figure/counter= 1 man as a physical scale.

NOTE TO LONG TERM FANS OF THE OLD WILD WEST SITE: Fortune City, in their infinite wisdom and technical incompetence, deleted most of the files from the old site, many of which I am unable to recover. Please be patient while I try to figure out to get these back.
I'm Walt O'Hara , der webmeister, but I didn't come up with everything here. David Markley, my partner in crime, has also contributed to some of the stuff on this page. We have both been running skirmish games at home and at conventions since 1996, and hopefully can pass along some items of interest to you.
What will you find here? At first, not a lot. I have participated pretty avidly in playing, playtesting and adding to a rule set called THE RULES WITH NO NAME (TRWNN). TRWNN was developed by Brian Ansell of the Foundry-- one of the preeminent miniature figure companies available today. TRWNN is available for free from Tim Peterson, courtesy of the Foundry Web Page.
TRWNN Files: Remote Links
In conjunction with David Markley, I have added extensively to the core TRWNN rules document, and I will make these additions available here.
Here are a few additions and expansions (totally unauthorized by Brian Ansell, the Foundry or anyone else holding copyrights to THE RULES WITH NO NAME). They were meant to add the Hollywood Element to the game that seemed to be missing (Explosions, etc.). These are links from Tim Peterson's Rules with No Name Page (and as published in MWAN #96 in print form):
In addition to the Variant Rules, here are some scenario write-ups that might be fun:
| | |
| --- | --- |
| | Town cowers in fear as Mexican Bandit leader El Guano vows revenge. The only thing standing between Cow and Annihilation is Sherrif Dawson, a tempermental alchoholic with two untested deputies. Will Sherrif Dawson stay sober? Will his deputies shoot straight? |
| | Cow Town is beset by that gang of incompetent cattle rustlers, the Claverty Brothers. The elder Clavertys, Micah and Ned, have sworn to free younger brother Billy from the lockup. The Sherrif (again, Dawson) rapidly deputizes anyone he can find to help with the situation, including a Chinese railroad working with a temple sword... will the Clavertys get their way? |
The Rules with No Name Files (being reconstructed)
>Reconstruction of files in process, sorry<
NEW!!! SCARY MONSTERS OF THE GOLDEN WEST is out. Go to the SM Download page immediately!
Rules Addendum, covering divers subjects such as explosions, stampedes, doctorin, etc.
1
"Hell Comes to Cow Town"-- a scenario run at Fall-In! 1997
Player Character Table -- for Cow Town, our mythical Texas town where most of our gunfights take place
A MAP of Cow Town, under the old configuration
A FATE DECK done in Powerpoint format, available sans character cards. This is the first version of the Generic Fate Deck, optimized for Rules with No Name.
A nifty TEMPLATE for determining how shotguns are used by David Markley. Click here to view/print the construction graphic. See the Photo in the photo album, too.
Some Funky New Weapons that might be of some use.
The After Action Report of our Cold Wars 99 Scenarios, "A Fistfull of Eggs/For a Few Eggs More" Here's the conventionPOSTER for Fistfull of Eggs...
1 This material was originally presented in MWAN magazine, and is formatted accordingly.
Generic Fate Deck for TRWNN/Desperado
This is a generic fate deck for The Rules with No Name-- basically the one presented in the link above, with more appropriate pictures and many new bystander cards. It was used at COLD WARS 99 with great success. Due to Fortune City's restrictions about file upload size, I've had to break this up into 8 discrete files. You will need to have Adobe's Acrobat Reader installed on your PC to view these files. If you discard some of the TRWNN-specific cards (such as the action cards), you can easily use this deck for DESPERADO or other skirmish-based miniature wargames. This file was originally created in Powerpoint.

>Reconstruction of files in process, sorry<
| | |
| --- | --- |
| FILE | FILE NAME |
| | Wild West Fate Deck, Extra Action Cards and Muzzle Reloader (1of8) |
| | Wild West Fate Deck: BOOM!, Stampede, Herd Move, Extra Action cards, Joker, some bystanders (2of8) |
| | Wild West Fate Deck: Herd Move, Wagon Move, Stagecoach Move, "Easter Burro,"2 Activation cards, Bystanders. (3of8) |
| | Wild West Fate Deck: Activation Cards, Bystanders (4of8) |
| | Wild West Fate Deck: Activation Cards, Bystanders (5of8) |
| | Wild West Fate Deck: Activation Cards, Bystanders (6of8) |
| | Wild West Fate Deck: Activation Cards, Bystanders (7of8) |
| | Wild West Fate Deck: Generic "Events", Train Moves, "All Hell Breaks Loose", The Sherrif, Bystander (8of8) |
2The Easter Burro is a reference to the " Holiday Scenarios " series of games that Dave and I have put on for conventions. In this particular instance, the Easter Burro was part of the duel skirmish events "A Fist Full of Eggs/A Few Eggs More" we ran at Cold Wars 99. Dave ran 2 Legorado events, I ran 1 Cow Town event. I hope to have pictures of the Legorado event up soon.
A Generic Character Sheet
Here is a character sheet for TRWNN/Desperado. To use for Desperado, just ignore the references to "rank" of characters. You will need Adobe Acrobat Reader installed on your machine to view this file.
>Reconstruction of files in process, sorry<
A Weapons Selection Sheet for Quick Play
I find that the following table is of some use for quick setup, non-campaign games. I advocate drawing Skill Chits if you use this method of setup, to make for a very random game! Good for both Desperado or TRWNN.
Mission Builder Cards (in PDF format). These are fun little 'adventure builders' in three flavors: Black Hat Missions, White Hat Missions, and Neutral (Brown Hat) missions. The ones in Green Font Color have a SCARY MONSTERS flavor (See Below). Download the File

SCARY MONSTERS VERSION 1.3 is released. Go to the Scary Monsters Page to download.
(I have located this file during a scan of some old zip disks... have at it!)
Added: Wild West RULES compendium, courtesy of the Miniatures page
Added: The Wild West Ghost Town Project
Added: Link to Solitaire rules for THE RULES WITH NO NAME ("Lone Star Rules") by Ruggero Romano (Thanks for the tip of the cap at the end, Ruggero!)
Wild West Skirmish Picture Albums
Here are some pictures of past Wild West skirmish events. These are exclusively using The Rules with No Name rules, heavily modified. I hope to add material from different rule sets at some point, but that's what we're playing these days.
Page One: Another fun evening at home doin' some killing. Shows off stampedes, Fall-IN! 1997, Shotgun template.
Page Two: Just a lot of goofing off, blowing things up and diverse stuff. We experiment with Buffalo Gun rules.
Page Three: The 1st Annual Cow Town Turkey Hunt scenario, a practice session run at home and Fall-IN! 1998.
Shootist: A Belgian wargaming group show off their own ruleset and gunfights
Source for Figures and Accessories
| | |
| --- | --- |
| The Foundry | Excellent source of 28mm to 30mm figures, detail is excellent. Extensive "Pony Wars" line, Victorian Bystanders are a must for NPCs. Check out new Range Wars, Cavalry, and Maximillion Adventure sets. |
| Old Glory | Fantastic deal at 25$ or less for 30 odd figures; sometimes less. Extensive Pony Wars and Indian lines; Good Support for Gunslingers and Lawmen, too. Figures are pretty good; mate well with Foundry but not as nicely sculpted. |
| Pass of the North | The Pass of the North figures have been sold to GeoHex. They are now being sold as "Desperado" figures (and quite pricey, too) |
| Dixon | An outstanding line of miniatures that mates well with Old Glory and the Foundry. Their vignettes are a MUST BUY for the Wild West gamer. |
| J&T Miniatures | Excellent line of Resin Cast accessories in many periods; check out the OK corral and Stockade set for the Wild West. Recent new lines of miniatures include "Dogs of the Hot Moon", a settler massacre set (very good stuff). Also carries various lines of Eureka and Connoiseur figures in the Wild West theme. |
| Firing Line | A small, but nicely sculpted Western line that hopefully is growing. |
| RAFM | A small Plains Indians line (e.g., "Boots and Saddles"). I haven't used them. |
| Haus of Stuff (defunct) | Used to Distribute Outpost, Frontier, SIMCAST figures. Not sure of their status now. Site is still up for some reason, but they are not taking orders for Frontier or Outpost. |
| Frontline Wargaming | Polyester resin scenics, including a Wild West range in 25mm. I have the graveyard, the store interior and the bank interior. Now distributed in the US by Robert Bolling. |
| ERTL's "Cow Town" Playset (at Evers Toy Store) | Decent Western Buildings sold as a kids toys!! Meshes perfectly with 1:64 or roughly 25mm. I have two sets of the Western Town set, 1 of the Ranch House and 1 Western Barn. Buy the Mustang Roundup and Longhorn Roundup for your stampede needs. Maybe you can let your kids play with them, too. NOTE I think the line has been discontinued as ERTL has been sold. EBAY is probably your best bet for a Cow Town now. |
| Tactical Conflict Systems (TCS) | Has a fantastic 25mm "Hollow House" line and their own commercial Rules set, HIGH NOON. Excellent line of accessories... maybe the only place to find saguaro cacti in this range. |
| Airfix | Out of business, but you can pick up a box here and there. Airfix had a 1/76 (roughly HO Scale) cowboys and Indians set, as well as some specialized military diorama sets that would work well in this format. |
| Revell | No website, but available in almost all hobby shops and some conventional toy stores. Revell has a 1/76 scale Cowboys and Indians set. Nice detailing. Good fit for Avalon Hill's Gunslinger game (if you want to use something other than counters) |
| Lego | Hey, I see you snickering. Lego has an extensive Western Line (e.g., "Legorado"), and Dave has collected quite a haul of these "toys" (ostensibly for his son David). Dave has run two TRWNN convention events using Legorado so far, and plans to run more |
| Goldlok Toys | They make a pretty decent train set in scale. Unfortunately this company is in Hong Kong, I've tried contacting them several times and they don't answer email. Easy to find these in toy stores, though. |
Wild West Skirmish Gunfight Board and/or other type games not done in a miniature vein.
Thundering Guns: I don't know much about this game, saw it in a games store once and didn't buy it, as it was pricey. Put out by the same people who do Cry Havoc.
Gunslinger: by Avalon Hill. Nice game, breaks actions down to degree of granularity that I find a little stultifying, but it has some decent potential. Recommended. Here is some information on Grognards: A Review, Article Index, PBeM Report

Bounty Hunter: by Nova Games, the people who brought you Ace of Aces. Basically this is a port of that system to Wild West gun fights. I played it once, long ago, and thought it was pretty cool, but lacked the suspense and action pacing of the air combat games. Here's a review on Grognards.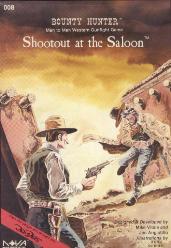 Outlaws: by LucasArts. First person Shoot'em up, kind of like Doom goes West. Nicely done from the look of it, I've never played it. You can find it in the budget bin nowadays. Here's a nicely done Outlaws Support Page
Saloon: Cute little "Bar Fight" game. Like many Euro themed games, this could just as easily be about anything else, like: "Hey, girls, the Fleet is in town!" Still, the artwork is funny and the game easy to go through. Nice model for fisticuffs, if you are looking for such. In German.
Way out West: A nifty tile-placement themed game, lots of fun, sort of ambivelant about the Western theme:
Wyatt Earp: Call this one "Mystery Rummy set in the old West" and I think you have an idea of how this game works.